My team, Beth's Believers will be raising money and walking again this year. I would love for you to join me. This year's relay will be held at the Indiana White TWP Recreational Park (by the ice skating rink) Friday, May 14th starting at 6 pm. Because cancer never sleeps, Relays are overnight events up to 24 hours in length, but you can be there as much or as little as you want. You can sign up by going to my personal page (link below) and then clicking on "Join my team".
Beth's personal page here
Last year I had a blast. We participated in the hula hooping competition, midnight volleyball, and tug-of-war. I took 3rd place in the hula hooping, we lost at volleyball, and we won one round of tug-of war and then lost the other. I hope to have enough people to be able to sign up for more events.
Here are a couple pics from last year...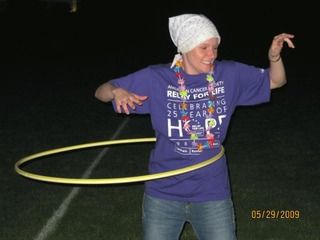 It really is a lot of fun, so please consider it.
If you are unable to donate time, you can show your support by making a donation. No amount is too small and every little bit adds up. I would love for Beth's Believers to rock at fundraising this year.
Donate here